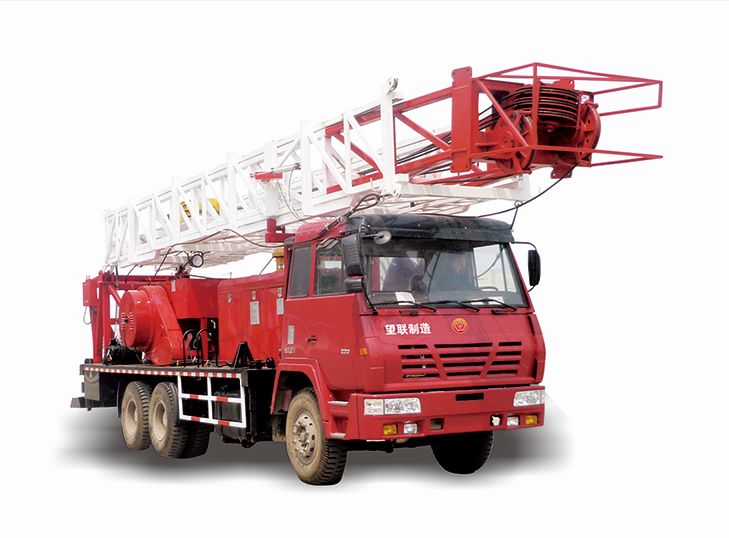 XJ70-l Truck mounted Workover Rig
Product Outline:
XJ70-1 Truck-mounted Work over Rig is a vehicle-mounted repair equipment in the oil filed . Max Hook Loading is 675KN, with derrick height 18m, 21m,23m. Can be made according to the user needs, special self-propelled chassis, 6x4 flexible drive mode, good cross-country performance working device, used for workover treatment.
Power System: high-speed diesel engine hydraulic mechanical drive,engine 175KW, high
performance, standard layout by 350 hydrodynamic transmission.
Derrick assembly: double-section telescopic derrick, the hydraulic lifting, telescopic. Slant degree 5.5°, adjusted by screw. the crane is an integral box and the crane platform is equipped with guardrail. It is simple, safe and reliable.
Winch assembly: single drum structure, maximum fast rope tension 120KN, belt brake, air-cooled structure. The directional valve adopts gas control and manual control double control structure, the operation is simple and labor-saving, and the pipeline layout is simple. The rated working pressure of the hydraulic system of this machine is 14 MPA.
Main Use:
1. When workover, lift down tubing, sucker rod;
2. When cleaning the oil well, lift up the plug, salvage the bottom of the well falling objects;
3. Drilling cement plug and other workover operations;
4. Oil well suction during oil test;
5. Carry on wellhead installation and lifting work.